Easy Fleet GPS SafetyCam

80% of car crashes are attributed to distracted driving. Take the next step to elevate your fleet's safety.
The Easy Fleet GPS SafetyCam AI offers fleets of all sizes a powerful device to enhance driver and fleet safety. Designed using first-hand insights from fleet managers, it is equipped with multi-sensor HD cameras providing fleets with access to live and recorded video evidence of harsh driving incidents.
Using artificial intelligence and computer vision, the SafetyCam detects distracted driving, driver drowsiness, and unsafe driving behaviors, assisting drivers with real-time audio and visual alerts.
The Easy Fleet GPS SafetyCam AI grows with your fleet's needs. and works seamlessly with the Easy Fleet GPS mapping platform to provide an integrated solution that delivers real benefits that help reduce risk, coach drivers and improve safety.
Benefits
Reduce distracted driving, addressing one of the leading causes of preventable accidents
Improve safety with real-time alerts from harsh driving incidents
Get the whole picture with LIVE VIDEO to your fleet vehicles, drivers, passengers & cargo
Personalize training for high-risk drivers based on individual driving behavior data
Reduce insurance claims & exonerate your drivers with video evidence stored in the cloud
Easy Fleet GPS SafetyCam AI Key Features
LIVE View streaming capabilities of the road and driver simultaneously
Distracted Driver Detection with facial recognition technology that works during the day or night
Easy Fleet GPS SafetyCam AI Driver Assistance provides realtime audio feedback and visual warnings for dangerous driving events
On-Demand Video retrieval from the Easy Fleet GPS cloud
Parking Mode: Built-in battery automatically turns the camera on when sensing harsh movement like vehicle break-ins
WiFi HotSpot built-in to easily connect all your devices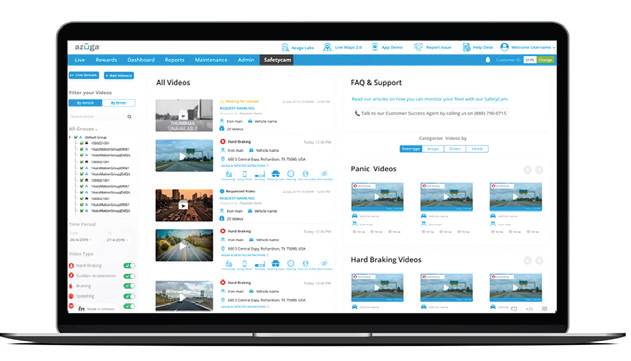 Download SafetyCam Brochure